Six reservoirs - each the size of Wembley football pitch
The original developer's plans for the North Witney development included a series of cascading ponds in the centre of the development to catch flood water. A report commissioned by the developers in January 2015, now proposes building six reservoirs above and outside of the development, each the size of Wembley football pitch. (See diagrams below.) The proposals also show that the planned West End Link Road across the Windrush will not provide any flood prevention, and will cause water levels to rise by an additional 39mm (1.5 inches) immediately upstream of the WEL bridge in flood conditions.
All this poses a number of questions:
Why are the six proposed reservoirs currently sited on a hill outside the development area?

What are the flood prevention measures for water run-off and the two other tributaries within the development?

When were WODC made aware of the need to build the six huge reservoirs and the other WEL related raised flood-water level issues?

Why were these two reports, dated January and March 2015, not included in the July 2015 WODC Local Plan submission document? (You can find links to these reports at the end of this page.)

Where are the risk assessment reports associated with building 63,000 m³ reservoirs directly above a Witney residential area?

Where are the costings associated with building and maintaining such a reservoir?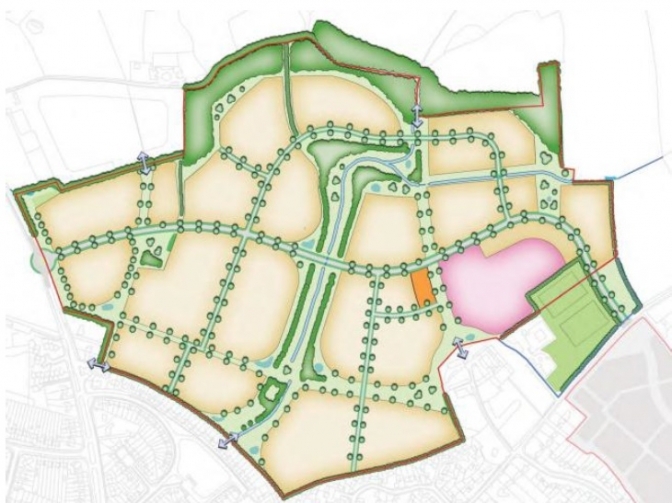 Above: the developer's original schematic with minimal drainage. Below: the six huge reservoirs the developers are proposing.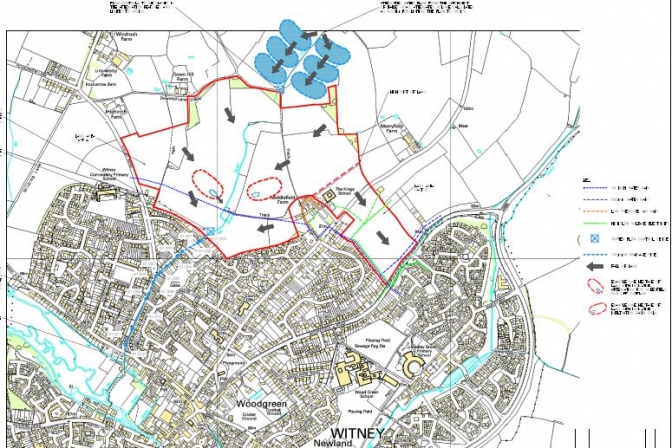 If you'd like to read more, follow these links to the WODC site:
WODC Local Plan library, North Witney Flood Report
WODC Local Plan library, West End Link Road bridge, Flood Report (see sections 5.3.3 to 5.3.8)